Back in June, we reported that overall US Nat Gas exports had exploded thanks to soaring LNG flows to Europe which has grown increasingly desperate for any "friendly" nat gas now that Russia has almost shut off all pipelines toward Europe, in the process pushing US nattie prices sharply higher – if nowhere near where they are in Europe currently.
And while these exports fizzled after the Freeport LNG explosion in June, it was clear that nat gas prices (and to a lesser extent, inventory) in the US would be a factor not only of domestic demand, but increasingly also of European imports from the US.
The same of course, can be said for oil, which is seeing growing demand in Europe – which finds itself increasingly locked out of Russian oil output, which is expected to shrink even more once a Russian oil ban is imposed at the end of the year – as part of gas-to-oil switching which is becoming increasingly prevalent in Europe, and is why US crude sales overseas are also set to hit fresh records through next year as American oil increasingly takes market share in Europe.
Earlier this month, weekly government figures showed an unprecedented 5 million b/d of US crude being exported. Shipments are poised to average over 4 million b/d over the next few months and into next year, according to the most optimistic in the oil industry.
And just like in the case of gas, rising oil exports to Europe mean not only higher US oil and gas prices – as supply/demand dynamics of the two asset classes converge – but also shrinking US inventories which end up in Europe. Which is a problem for US oil because while prices are dropping for now, they are oblivious of the fact that commercial US inventories have slumped to near record lows.
So wouldn't you know the Biden Administration – the same administration that has been draining record amount of oil from the US strategic petroleum reserve in hopes of pushing gas prices lower by the midterms – now wants to limit fuel exports to Europe.
That's the message Energy Secretary Jennifer Granholm sent last week in a letter imploring seven major refiners to limit fuel exports. The WSJ obtained a copy of the letter (see below) which the Administration didn't release publicly, but has since leaked courtesy of Bloomberg's Javier Blas and others.
Granholm warned that gasoline inventories on the East Coast are at a near-decade low, and diesel stocks are nearly 50% below the five-year average across the region. And while she didn't address it – as the SPR drain is hardly something the White House is proud of – total crude oil inventories including the SPR have seen a spectacular collapse since the Ukraine war.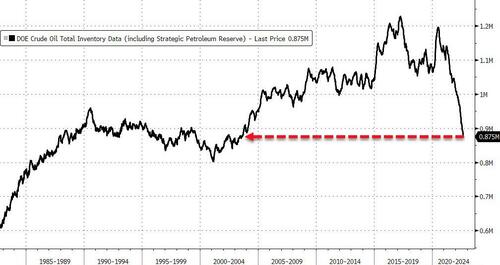 "Given the historic level of U.S. refined product exports, I again urge you to focus in the near term on building inventories in the United States, rather than selling down current stocks and further increasing exports," she writes.
"It is our hope that companies will proactively address this need," she adds. "If that is not the case, the Administration will need to consider additional Federal requirements or other emergency measures." In New Jersey they call that an offer you can't refuse.
This, as the WSJ notes, is a political escalation from President Biden's June command to refiners to immediately lower gasoline prices. As average gasoline prices nationwide have fallen to $3.88 from about $5 in mid-June, he has been taking a media victory tour. However, the drop in prices is largely a function of the market expecting an imminent recession, hardly something worthy of a victory tour, and in any case, Biden can thank Americans for driving less.
Yet fuel storage levels are running low heading into hurricane season when it's not unusual for Gulf Coast refineries to be damaged or shut down. The Administration fears a refinery outage that causes fuel prices to spike in the runup to the November election. Hence, Granholm's threatening letter.
But, as the WSJ editorial board explains, the problem isn't U.S. exports. It's the political and regulatory assault on U.S. production and refining. One culprit is the 2019 closure of the Philadelphia Energy Solutions refinery, which removed about 335,000 barrels a day of refining capacity from the Northeast. This made the region more dependent on Gulf Coast and overseas refineries.
Additionally, fuel storage levels would be much higher in the Northeast if not for New York state's natural gas pipeline blockade, which has made the region more dependent on oil for energy. One-third of New England residents still use oil to heat their homes, and New York this month is generating more electricity from oil than from solar or wind.
Most ironic, however, is that the Granholm export threat is also a slap in the face to European allies trying to diversify energy sources from Russia. Fuel supplies are tight globally amid sanctions on Russia, which had accounted for 40% of Europe's oil imports. Europe has had to look elsewhere for diesel fuel, which some manufacturers and power generators are turning to as a substitute for natural gas. U.S. refiners have recently been exporting more fuel to Europe, but Granholm is now telling them to stop.
Restricting fuel exports is one more counterproductive Biden policy on fossil fuels that would merely drive up global fuel prices, including U.S. imports. As the WSJ concludes, "Granholm's bullying of energy companies shows how little she understands about energy markets."